Ever heard of Wi-Fi, local area networks (LANs), wide area networks (WANs), or global area networks (GANs)? Well, these marvelous things allow us to communicate, exchange information, and connect to the internet – and they're looked after by network engineers.
Network engineers are responsible for building and maintaining the day-to-day operation of computer networks that companies and organizations rely on. These networks typically include an intranet, extranet, local area network (LAN), and wide area network (WAN).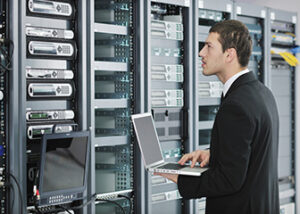 File Name: Network engineer – Office
Alt-Text: Administrators evaluate network and system performance and determine how changes in the environment will affect them.
Their duties include using their IT knowledge to develop company networks, coordinating with company leadership to identify network needs, and providing assistance to employees and other individuals on how to use the network effectively. Employment of network engineers is projected to grow 5 percent (network and computer systems administrators) from 2020 to 2030, slower than the average for all occupations.
In this blog, Pritish Halder describes the basic knowledge about Network Engineering.
Network Engineer: the Basics
To be a successful candidate, you will need to have a strong understanding of network infrastructure and network hardware. You will also need to be able to implement, administer, and troubleshoot network devices including WAPs, firewalls, routers, switches, and controllers. A deep knowledge of application transport and network infrastructure protocols is highly desired.
Although some employers require a postsecondary certificate or an associate's degree, most require network and computer systems administrators to have a bachelor's degree in a related field, such as computer and information technology.
It's always best to have some knowledge about the most common areas of study such as Computer science, Computer software/computer systems engineering, Computer systems and networks, Electrical/electronic engineering, Mathematics, Network security management, and Physics.
List of Topics to Prepare
Working in I.T. is a constant learning process. To be successful, you will need to keep on top of industry developments and teach yourself new skills all the time. Once you have gained a decent amount of experience, you may step up into a lead network engineer position with team-leading responsibilities. Eventually, you may advance your technical knowledge even further and begin working as a network architect on major projects. There are many concepts that the interviewer can question you about, it usually revolves around these topics:
Knowledge of computer and information technology
Knowledge of Computer science
Knowledge of Computer software/computer systems engineering
Knowledge of Computer systems and networks
Knowledge of Electrical/electronic engineering
Knowledge of Mathematics
Knowledge of Network security management
Knowledge of Physics
Knowledge of up-to-date knowledge and understanding of your employer's business and industry needs, as well as the technical demands
Knowledge of recognizing the importance of customer focus and/or of serving the needs of the end-user
Determine an organization's system needs and install network hardware and software
Make needed upgrades and repairs to networks and ensure that systems are operating correctly
Maintain network and computer system security
Evaluate and optimize network or system performance
Add users to a network, and assign and update security permissions on the network
Train users in the proper use of hardware and software
Interpret and solve problems when a user or an automated monitoring system alerts them that a problem exists
The level of the interview will directly depend on the experience you have, followed by your qualification and work skills. However, if the candidate is an experienced person, the process can tricky and technical to test the applicant's true abilities.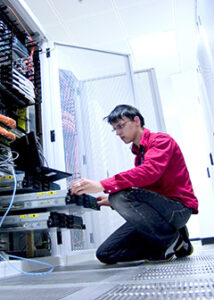 File Name: Network and computer system security
Alt-Text: Administrators fix computer server problems.
Learn More about the Job                         
Anyone serious about landing a job or acing a Network engineer's job interview should have adequate knowledge about the concepts mentioned above. More importantly, the applicant should know what kind of institutions they are applying to and the nature of the job to prepare accordingly.
However, if you feel overwhelmed, get in touch with Pritish Kumar Halder to help you nail the interview. With his expertise in Network engineers' interview preparation, from core Network engineers' interview questions to advanced Network engineers' interview questions, you'll have brilliant responses ready.
Get in touch with us today!
Composed by: Suma Sarker
Reference:
https://www.bls.gov/ooh/computer-and-information-technology/network-and-computer-systems-administrators.htm#tab-4