Any questions you want to practice should be geared towards your reliability, teamwork, and ability to follow instructions. Various healthcare settings, including healthcare clinics, and hospitals should also be looking for motivation and enthusiasm for the specific position. You need to know some of the most common questions asked in interviews. Read Pritish Kumar post to know about it.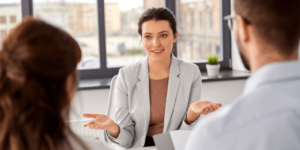 File Name: People-office-Recruitment
Alt-Text: people sitting in the office for an interview
Try practising some of these common Nurse practitioner's job interview questions:
1.    Why did you choose to become a nurse practitioner?
How to answer: When an interviewer asks this question, they are trying to better understand what motivates you to succeed in your career. As well as how committed you are to your work. The demands of a nurse practitioner can be significant, so passion is vital.
Answer:  "I chose to pursue a career as a nurse practitioner because I am invested in the care and treatment of those whom I can serve. During my education, I found that nursing was of particular interest to me. So, I chose to continue to earn my nurse practitioner license. In this role, I can further support patients and work as part of a care team that delivers personalized care to each patient."
2.    What do you think is the most challenging aspect of working as a nurse practitioner?
How to answer:   A nurse practitioner faces unique responsibilities and challenges. As a result, nurse practitioners can become stressed or frustrated at work, which can carry over into their personal life as well. When answering this question, it's important, to be honest about what you think is especially challenging. Moreover, also discuss how you handle that aspect of the job.
Answer:  "I find it especially challenging to work with a patient who is facing a life-threatening illness or disease. This situation is difficult for me because it is emotionally difficult to be involved in. To overcome this challenge, I continue to pursue education and training that allows me to better respond to life-threatening illnesses and situations to help improve patient outcomes. I also give my best effort to provide emotional support to those who are suffering."
3.    What do you contribute to a patient's care experience?
How to answer:   Since nurse practitioners interact directly with patients, an interviewer needs to determine what you feel you can contribute to each patient's care experience. The experience of the patient will determine the outcome. As well as whether that patient comes back for additional treatment when needed. When answering this question, consider some of the unique ways you interact with your patients. Such as how you exceed the call of duty or respond to patient needs.
Answer:  "I start every patient interaction by making sure I am communicating as clearly and effectively as possible. I take the time to answer questions from my patients and their support people, as well as respond to their concerns quickly so they feel heard. When I interact with a patient, I also focus on putting myself in their situation. So, I can better show compassion and empathy."
Not every question you will encounter when interviewing for a Nurse practitioner position will be related to a public health-supportive job. But those are the common topics interviewer can ask for selecting a qualified candidate.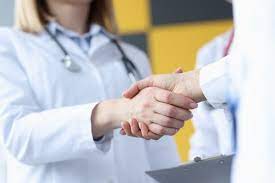 File Name: People-office
Alt-Text: Qualified candidate is hand shaking in the office
Best Nurse practitioner's Interview Preparing Service
If you're feeling overwhelmed by the questions mentioned above, we get you. However, don't fret as you have Pritish Kumar Halder by your side. I am a Nurse practitioner job expert with special skills and help people prepare for all types of Nurse practitioner job interviews. Whether you need assistance in answering advanced Nurse practitioner job interview questions or core Nurse practitioner job interview questions, I can help you with all.
Get in touch for more information.
Composed by: Suma Sarker
Reference: