Industrial designers combine art, business, and engineering to develop the concepts for manufactured products. It's a tricky profession, but a good Industrial Designer can make a manufactured product "cool" or "sexy" enough to make you want to buy it. That makes these professionals in pretty high demand for manufacturing companies, retailers, engineering firms, and advertising agencies.
Industrial Designers plan, design, develop and document industrial, commercial, or consumer products for manufacture with particular emphasis on ergonomic (human) factors, marketing considerations, and manufacturability, and prepare designs and specifications of products for mass or batch production.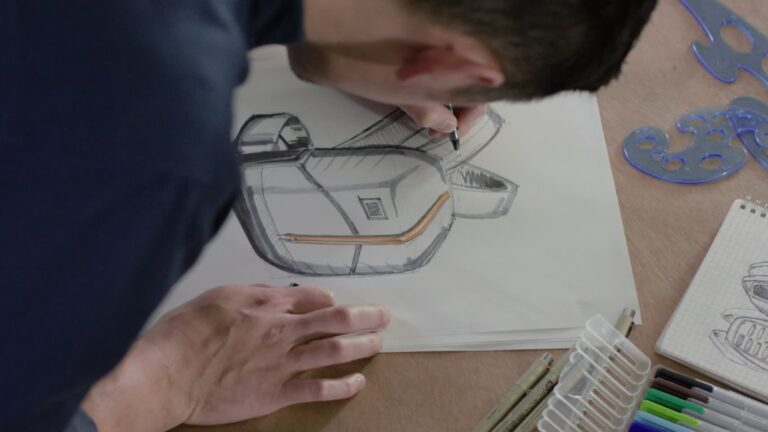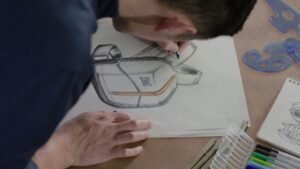 File Name: Industrial designer – Sketch of product
Alt-Text: Industrial designer sketching a model of the bag to furnish with 3D software
Tips to prepare for Industrial Designer's Interview by Pritish Kumar Halder:
Industrial designers work in a variety of industries. Although industrial designers work primarily in offices, they may travel to testing facilities, design centers, client exhibit sites, users' homes or workplaces, and places where the product is manufactured. The BLS expects jobs in Industrial Designers to decline by 6% from 2020 through 2030.
Industrial Designer's Interview: the Basics
Industrial Designers work closely with consumers to figure out what makes one product easier to use than another – and how a product design could keep a consumer coming back for more. Industrial Designers are good at sketching out schematics and ideas for how a particular product should look. Often these sketches are rendered in 3D software that takes a product idea and makes it concrete.
Industrial designers typically need a bachelor's degree to enter the occupation. They also need an electronic portfolio with examples of their design projects. A bachelor's degree is usually required for entry-level industrial design jobs. Common fields of degree include fine arts, engineering, and architecture. Most industrial design programs include courses in drawing, computer-aided design and drafting (CADD), and three-dimensional modeling, as well as courses in business, industrial materials, and processes, and manufacturing methods.
They must be good at problem-solving; they are also sometimes called upon to fix product deficiencies or tweak an existing product design to make it more "sellable."
List of Topics to Prepare
If you are a creative professional with a unique skillset steeped in engineering and graphics, you can consider becoming an Industrial Designer. So, here are some best Industrial designer's Interview topics that will help you to clear the interview quickly:
Knowledge of fine arts
Knowledge of engineering
Knowledge of architecture
Knowledge of courses in business
Knowledge of industrial design
Knowledge of spatial design
Knowledge of 3D design
Knowledge of programs include courses in drawing, computer-aided design and drafting (CADD), and three-dimensional modeling,
Knowledge of Industrial materials and processes, and manufacturing methods
Research the various ways a particular product might be used, and who will use it
Sketch ideas or create renderings, which are images on paper or on a computer that provides a visual of design ideas
Use computer software to develop virtual models of different designs
Create physical prototypes of their designs
Examine materials and manufacturing requirements to determine production costs
Work with other specialists, such as mechanical engineers and manufacturers, to evaluate whether their design concepts will fill needs at a reasonable cost
Evaluate product safety, appearance, and function to determine if a design is practical
The level of the interview will directly depend on the experience you have, followed by your qualification and work skills. However, if the candidate is an experienced person, the process can tricky and technical to test the applicant's true abilities.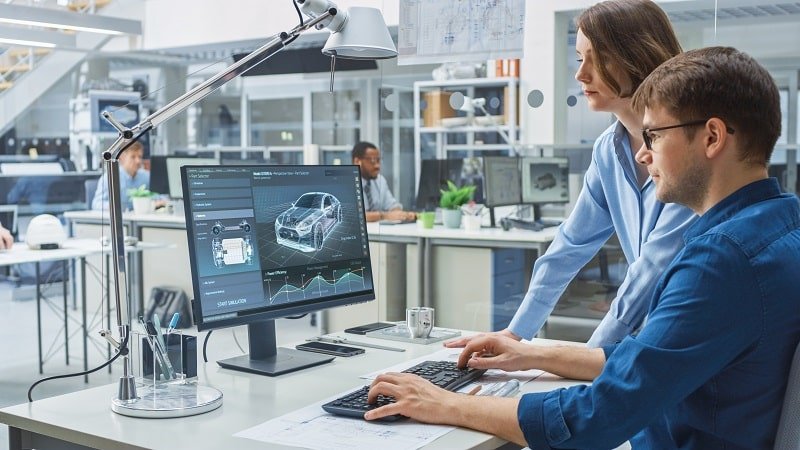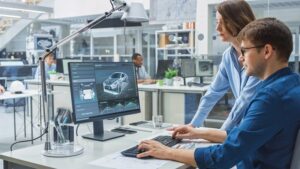 File Name: Industrial designers – Computer-aided Design equipment
Alt-Text: Industrial designers using computer software to develop virtual models of a car.
Learn More about the Job                         
Anyone serious about landing a job or acing Industrial Designer's job interview should have adequate knowledge about the concepts mentioned above. More importantly, the applicant should know what kind of institutions they are applying to and the nature of the job to prepare accordingly.
However, if you feel overwhelmed, get in touch with Pritish Kumar Halder to help you nail the interview. With his expertise in Industrial Designer's interview preparation, from core Industrial Designer's interview questions to advanced Industrial Designer's interview questions, you'll have brilliant responses ready.
Get in touch with us today!
Composed by: Suma Sarker
Reference: