Speech-language pathologists (SLP or sometimes called speech therapists) assess, diagnose, treat, and help to prevent communication and swallowing disorders in children and adults. Speech, language, and swallowing disorders result from a variety of causes, such as a stroke, brain injury, hearing loss, developmental delay, Parkinson's disease, a cleft palate, or autism.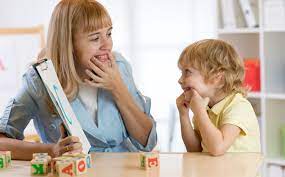 File Name: Speech-language pathologist-Patient
Alt-Text: A Speech-language pathologist is teaching to make proper sound
To succeed as a Speech-language pathologist, you should be willing to alter treatment plans to better suit the individual need of a diverse patient population. You should be caring, adaptable, analytical, and resourceful. Along the way, to be successful Speech-language pathologists, you should make it your goal for children and adults to achieve advanced fundamental knowledge of Medical care and treatment.
In this blog Pritish Kumar, discuss commonly asked Speech-language Pathologist related Interview Questions during job:
Speech-language pathologist Interview: The Basics
The most relevant major questions are related to human communication and transparent knowledge of the subfields topics of speech-language pathologists. The questions are based on assessing, diagnosing, treating, and helping to prevent swallowing and communication disorders in adults and children. Therefore, it's always best to have some research about methodology, biology, human social behavior, linguistics, language disorders, language development in the child, and the anatomy of hearing and speech mechanisms, perform health worker duties and also supervise speech pathology tools, too. So, all of these areas of knowledge is important to prepare an excellent interview.
If you're looking for a job that could develop the child and Adult's communication and swallow disorder, this position is the right choice for you.
List of Topics to Prepare
Speech-Language Pathologists should be trustworthy and dependable so the patient and their family feel comfortable relying on them. They are typically either employed by an institution like a hospital, school or nursing home, or they have their own private practice where they see patients There are many concepts that the interviewer can question you about. While the level of questions does depend on the experience of the candidate, it usually revolves around these topics:
Knowledge of Statistics
Research methodology
Biology
Human social behavior
Linguistics
Language disorders
Language development in the child
Anatomy of hearing and speech mechanisms
Speech-language pathology
Communication sciences and disorders,
Behavioral and social science
Compassion and empathy
Enthusiasm
Persistence
Analytical Skill
Depending upon the state, a state-issued license may be required, Certificate of Clinical Competence in Speech-Language Pathology (CCC-SLP) is generally required
Proficient in troubleshooting common software and hardware challenges in relation to the regular use of speech pathology tools
Demonstrated knowledge and adherence to HIPAA legislation and other patient privacy laws
Practice a friendly and professional demeanor is required when explaining procedures and processes to patients
Understanding of work collaboratively with professionals from many other disciplines.
When interviewing for a Speech-language pathologist interview position, your interviewer will ask questions to assess your speech pathological skills and experience. The answers you give can be a deciding factor in whether you receive a job offer.
Learn More about the Job
Anyone serious about landing a job or acing a Speech-language pathologist interview should have adequate knowledge about the concepts mentioned above. More importantly, the applicant should know what kind of institutions they are applying to and the nature of the job to prepare accordingly.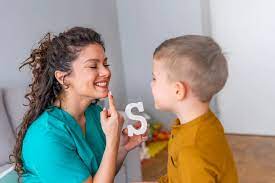 File Name: Speech-language pathologists
Alt-Text: Qualified candidate happy to help a swallowing disorder child.
However, if you feel overwhelmed, get in touch with Pritish Kumar Halder to help you nail the interview. With his expertise in Speech-language pathologist interview preparation, from Theoretical interview questions to Practical interview questions ; you'll have brilliant responses ready.
Get in touch with us today!
Composed by: Suma Sarker
Reference: