A pediatrician provides general medical care, monitors growth and development, and tracks and administers immunizations for infants, children, adolescents, and young adults. The pediatrician diagnoses and treats illnesses, medical conditions, and injuries, and eases the lives of children with chronic conditions.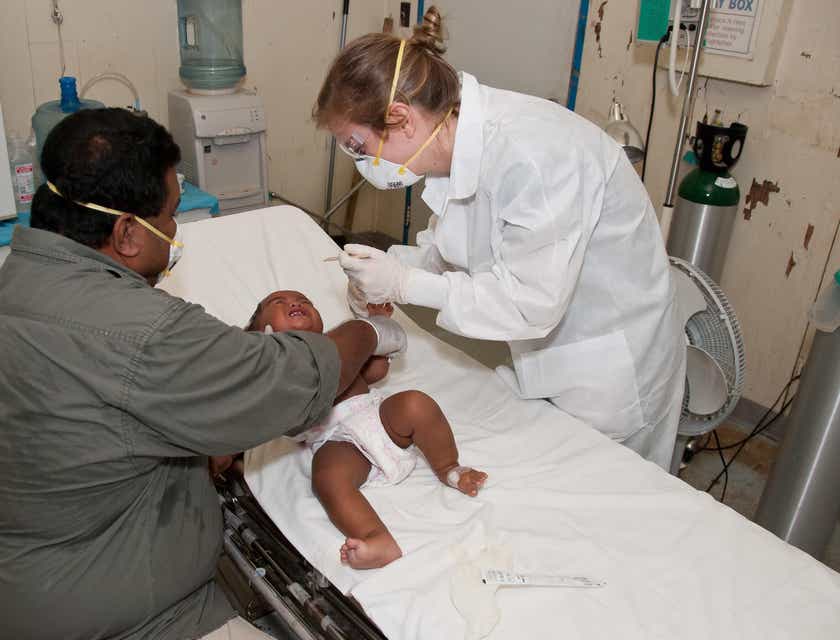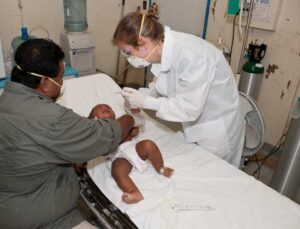 File Name: Pediatrician- patient
Alt-Text: A Pediatrician giving treatment of a child patient
The ideal candidate will possess a thorough knowledge of children's diseases and epidemiology as well as the established examination procedures for infants. A pediatrician must be patient and caring and able to foster long-term trust relationships with the children and their parents. Along the way, to be a successful Pediatrician, you should make it your goal for clients or patients to achieve advanced fundamental knowledge of Medical care and treatment.
In this blog Pritish Kumar, discuss commonly asked Pediatrician Interview related Questions during job:
Pediatrician Interview: The Basics
You should keep in mind that a pediatrician has to deal with many unexpected situations since they work with very young patients who often can't express their suffering properly. This is why a pediatrician must understand the specifics of children's psychology and know how to get information from uncooperative, shy, or scared children. They should be trustworthy and dependable so the patient and their family feel comfortable relying on them.
All Pediatrician positions require a strong foundation in overall medical care and treatment. Other experience requirements vary based on the role. There are multiple types of pediatricians depending on their specialty; they can be general pediatricians, pediatric surgeons, or primary care pediatricians.
The pediatrician job description requires a deep understanding of children's development and psychology. As well as extensive knowledge of *innovations and discoveries in the field, *Communication Skills, *Interpersonal Skills, *Stress Resistance is to be able to do the job properly. However, in all cases, a Pediatrician is primarily responsible for the assessment, diagnosis, and treatment of the patient's physical and psychological health issues. So, all of these type of knowledge is important to prepare an excellent interview.
List of Topics to Prepare
Most relevant major questions are related to health care field include children development and psychology. However, individual types of have different questions for interview. There are many concepts that the interviewer can question you about. While the level of questions does depend on the experience of the candidate, it usually revolves around these topics:
Capacity of strong decision-making, diagnostic, and problem-solving skills.
Good organizational, leadership, and team working skills.
A caring and compassionate nature when working with children and their families.
Proven experience as a pediatrician
In depth knowledge of children epidemiology and infectious diseases
Exquisite knowledge of diagnostic, treatment and rehabilitation principles and techniques
Up to speed knowledge of drugs/medication appropriate for children and their side-effects
Familiarity with traditional and web-based prescription systems
Outstanding diagnostic and problem solving abilities
Excellent communications skills
Medical Degree with specialization in pediatrics
Knowledge of performing tests such as X-rays, blood sampling or other matter tests.
Knowledge of interpreting results and determining the right diagnosis.
Recommending treatment adapted to the age and the development of the patient.
Performing regular check-ups in order to assess the growth and evolution of the child.
Collecting and interpreting patient information related to his or her medical history.
When interviewing for a Pediatrician interview position, your interviewer will ask questions to assess your educational skills and experience. The answers you give can be a deciding factor in whether you receive a job offer.
Learn More about the Job
Anyone serious about landing a job or acing a Pediatrician interview should have adequate knowledge about the concepts mentioned above. More importantly, the applicant should know what kind of medical institute they are applying to and the nature of the job to prepare accordingly.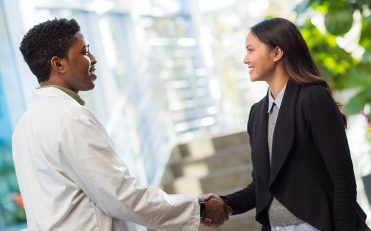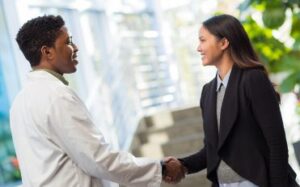 File Name: Two-hands-shaking-office
Alt-Text: Two people shaking hands in office
However, if you feel overwhelmed, get in touch with Pritish Kumar Halder to help you nail the interview. With his expertise in Pediatrician interview preparation, from Theoretical  interview questions to Practical  interview questions; you'll have brilliant responses ready.
Get in touch with us today!
Composed by: Suma Sarker
Reference: