Mughlai Paratha (or moglai porota as it is called in Calcutta) is a flaky, refined-flour pastry filled with a mixture of beaten eggs, keema, spices, and seasoning. It differs from other stuffed porotas in that the filling, runnier than other porota fillings because of the beaten eggs, cooks inside the porota. Making a Mughlai is not difficult, but it does take a fair bit of planning. In this recipe, we break down the steps in an easy-to-replicate manner.
Read Pritish Kumar Halder food blog, to get the Mughlai Paratha recipe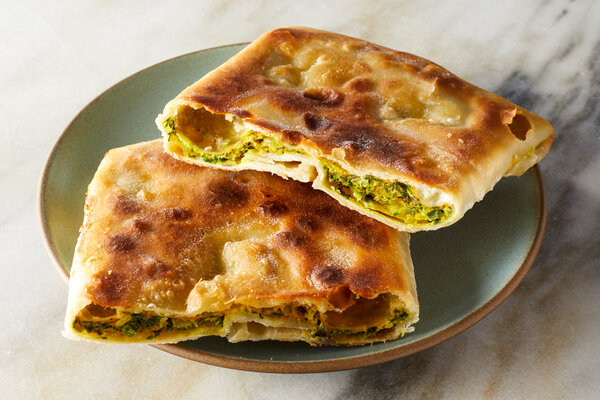 RECIPE NOTES
It is important to roll the porota as thin as possible so that the layers on the inside do not stay raw and gummy after frying.
When you roll out the porota, if the dough is elastic and keeps shrinking back, it means that the dough needs to be rested more. Rest for 20 minutes and try again.
When making the egg and mince filling, the consistency should not be runny. It should be like a slack paste. Add either keema or breadcrumbs to adjust. If your filling is watery, it will be difficult to fold and the filling won't fully cook.
YIELDS
1
INGREDIENTS
FOR THE DOUGH
‍75 g flour‍
2 g sugar‍
1 g salt‍
8 g vegetable oil
40 g warm water
FOR THE FILLING
10 g onions
2 g green chillies
2 g ginger
3 g coriander
1 pc egg
20 g cooked keema
10 g breadcrumbs
5 g roasted peanuts
2 g salt
vegetable oil for deep frying
EQUIPMENT
Kadai
Rolling pin
Stove
METHOD
‍
First, knead the dough. For that, in a mixing bowl, take flour, salt, sugar, and vegetable oil in the given proportions. Mix well to distribute the oil evenly, until the flour resembles breadcrumbs in texture. Add water and knead well for 5 minutes, until the dough is smooth and pliable. Coat with oil, cover, and set aside for at least 30 minutes.
While the dough is resting, prep for the filling. Finely chop the onions, green chillies, ginger, and fresh coriander leaves. Using a mortar-pestle, crush the roasted peanuts into smaller pieces.
In a bowl, beat an egg. Add the keema, onions, ginger, green chillies, coriander leaves, peanuts, breadcrumbs, and salt. Mix everything well.
Grease your rolling surface and rolling pin with oil.
Take a 120 g portion of the dough, and roll it into a rectangle about 40 × 30 cm in dimensions.
Place the filling in the centre, and fold the rolled dough from all four sides into a parcel, such that you end up with a pastry about 15 × 10 cm. While folding, be sure to overlap the layers and press down at the seams to seal in the filling completely.
Heat vegetable oil in a kadai for deep-frying. Gently lower the pastry into hot oil. Fry on medium heat until golden on all sides.
Reference
https://www.bongeats.com/recipe/mughlai-paratha