Cheese is a dairy product produced in a wide range of flavours, textures, and forms by coagulation of the milk protein casein. It comprises proteins and fat from milk, usually the milk of cows, buffalo, goats, or sheep.
Cheese is the world's most demanding dairy product, know interesting facts about cheese by Pritish Kumar article
During production, the milk is usually acidified and the enzymes of either rennet or bacterial enzymes with similar activity are added to cause the casein to coagulate. The solid curds are then separated from the liquid whey and pressed into the finished cheese. Some cheeses have aromatic moulds on the rind, the outer layer, or throughout.
Cheese is valued for its portability, long shelf life, and high content of fat, protein, calcium, and phosphorus. Cheese is more compact and has a longer shelf life than milk, although how long a cheese will keep depends on the type of cheese. Hard cheeses, such as Parmesan, last longer than soft cheeses, such as Brie or goat's milk cheese.
The long storage life of some cheeses, especially when encased in a protective rind, allows selling when markets are favourable. Vacuum packaging of block-shaped cheeses and gas-flushing of plastic bags with mixtures of carbon dioxide and nitrogen are used for storage and mass distribution of cheeses in the 21st century.
Origins
Cheese is an ancient food whose origins predate recorded history. There is no conclusive evidence indicating where cheesemaking originated, whether in Europe, Central Asia or the Middle East. Earliest proposed dates for the origin of cheesemaking range from around 8000 BCE, when sheep were first domesticated.
Since animal skins and inflated internal organs have, since ancient times, provided storage vessels for a range of foodstuffs, it is probable that the process of cheese making was discovered accidentally by storing milk in a container made from the stomach of an animal, resulting in the milk being turned to curd and whey by the rennet from the stomach. There is a legend—with variations—about the discovery of cheese by an Arab trader who used this method of storing milk.
Production
In 2014, world production of cheese from whole cow milk was 18.7 million tonnes, with the United States accounting for 29% (5.4 million tonnes) of the world total followed by Germany, France and Italy as major producers (table).
Other 2014 world totals for processed cheese include:
skimmed cow milk, 2.4 million tonnes (leading country, Germany, 845,500 tonnes)
goat milk, 523,040 tonnes (leading country, South Sudan, 110,750 tonnes)
sheep milk, 680,302 tonnes (leading country, Greece, 125,000 tonnes)
buffalo milk, 282,127 tonnes (leading country, Egypt, 254,000 tonnes)
During 2015, Germany, France, Netherlands and Italy exported 10-14% of their produced cheese.[26] The United States was a marginal exporter (5.3% of total cow milk production), as most of its output was for the domestic market.
Consumption
France, Iceland, Finland, Denmark and Germany were the highest consumers of cheese in 2014, averaging 25 kg (55 lb) per person.
Processing
Curdling
A required step in cheesemaking is separating the milk into solid curds and liquid whey. Usually this is done by acidifying (souring) the milk and adding rennet. The acidification can be accomplished directly by the addition of an acid, such as vinegar, in a few cases (paneer, queso fresco). More commonly starter bacteria are employed instead which convert milk sugars into lactic acid.
The same bacteria (and the enzymes they produce) also play a large role in the eventual flavour of aged cheeses. Most cheeses are made with starter bacteria from the Lactococcus, Lactobacillus, or Streptococcus genera. Swiss starter cultures also include Propionibacter shermani, which produces carbon dioxide gas bubbles during aging, giving Swiss cheese or Emmental its holes (called "eyes").
Some fresh cheeses are curdled only by acidity, but most cheeses also use rennet. Rennet sets the cheese into a strong and rubbery gel compared to the fragile curds produced by acidic coagulation alone. It also allows curdling at a lower acidity—important because flavor-making bacteria are inhibited in high-acidity environments. In general, softer, smaller, fresher cheeses are curdled with a greater proportion of acid to rennet than harder, larger, longer-aged varieties.
While rennet was traditionally produced via extraction from the inner mucosa of the fourth stomach chamber of slaughtered young, unearned calves, most rennet used today in cheesemaking is produced recombinantly. The majority of the applied chymosin is retained in the whey and, at most, may be present in cheese in trace quantities. In ripe cheese, the type and provenance of chymosin used in production cannot be determined.
Curd processing
At this point, the cheese has set into a very moist gel. Some soft cheeses are now essentially complete: they are drained, salted, and packaged. For most of the rest, the curd is cut into small cubes. This allows water to drain from the individual pieces of curd.
Some hard cheeses are then heated to temperatures in the range of 35–55 °C (95–131 °F). This forces more whey from the cut curd. It also changes the taste of the finished cheese, affecting both the bacterial culture and the milk chemistry. Cheeses that are heated to the higher temperatures are usually made with thermophilic starter bacteria that survive this step—either Lactobacilli or Streptococci.
Salt has roles in cheese besides adding a salty flavor. It preserves cheese from spoiling, draws moisture from the curd, and firms' cheese's texture in an interaction with its proteins. Some cheeses are salted from the outside with dry salt or brine washes. Most cheeses have the salt mixed directly into the curds.
Other techniques influence a cheese's texture and flavor. Some examples are
1)Stretching: (Mozzarella, Provolone) The curd is stretched and kneaded in hot water, developing a stringy, fibrous body.
2)Cheddaring: (Cheddar, other English cheeses) The cut curd is repeatedly piled up, pushing more moisture away. The curd is also mixed (or milled) for a long time, taking the sharp edges off the cut curd pieces and influencing the final product's texture.
3)Washing: (Edam, Gouda, Colby) The curd is washed in warm water, lowering its acidity and making for a milder-tasting cheese.
Most cheeses achieve their final shape when the curds are pressed into a mold or form. The harder the cheese, the more pressure is applied. The pressure drives out moisture—the molds are designed to allow water to escape—and unifies the curds into a single solid body.
Ripening
A new born cheese is usually salty yet bland in flavor and, for harder varieties, rubbery in texture. These qualities are sometimes enjoyed—cheese curds are eaten on their own—but normally cheeses are left to rest under controlled conditions. This aging period (also called ripening, or, from the French, affinage) lasts from a few days to several years. As a cheese ages, microbes and enzymes transform texture and intensify flavor. This transformation is largely a result of the breakdown of casein proteins and milkfat into a complex mix of amino acids, amines, and fatty acids.
Some cheeses have additional bacteria or molds intentionally introduced before or during aging. In traditional cheesemaking, these microbes might be already present in the aging room; they are simply allowed to settle and grow on the stored cheeses. More often today, prepared cultures are used, giving more consistent results and putting fewer constraints on the environment where the cheese ages. These cheeses include soft ripened cheeses such as Brie and Camembert, blue cheeses such as Roquefort, Stilton, Gorgonzola, and rind-washed cheeses such as Limburger.
Nutrition and health
The nutritional value of cheese varies widely. Cottage cheese may consist of 4% fat and 11% protein while some whey cheeses are 15% fat and 11% protein, and triple-crème cheeses are 36% fat and 7% protein. In general, cheese is a rich source (20% or more of the Daily Value, DV) of calcium, protein, phosphorus, sodium and saturated fat.
A 28-gram (one ounce) serving of cheddar cheese contains about 7 grams (0.25 oz) of protein and 202 milligrams of calcium. Nutritionally, cheese is essentially concentrated milk, but altered by the culturing and aging processes: it takes about 200 grams (7.1 oz) of milk to provide that much protein, and 150 grams (5.3 oz) to equal the calcium, though values for water-soluble vitamins and minerals can vary widely.
Types
There are many types of cheese, with around 500 different varieties recognized by the International Dairy Federation, more than 400 identified by Walter and Hargrove, more than 500 by Burkhalter, and more than 1,000 by Sandine and Elkerite varieties may be grouped or classified into types according to criteria such as length of ageing, texture, methods of making, fat content, animal milk, country or region of origin.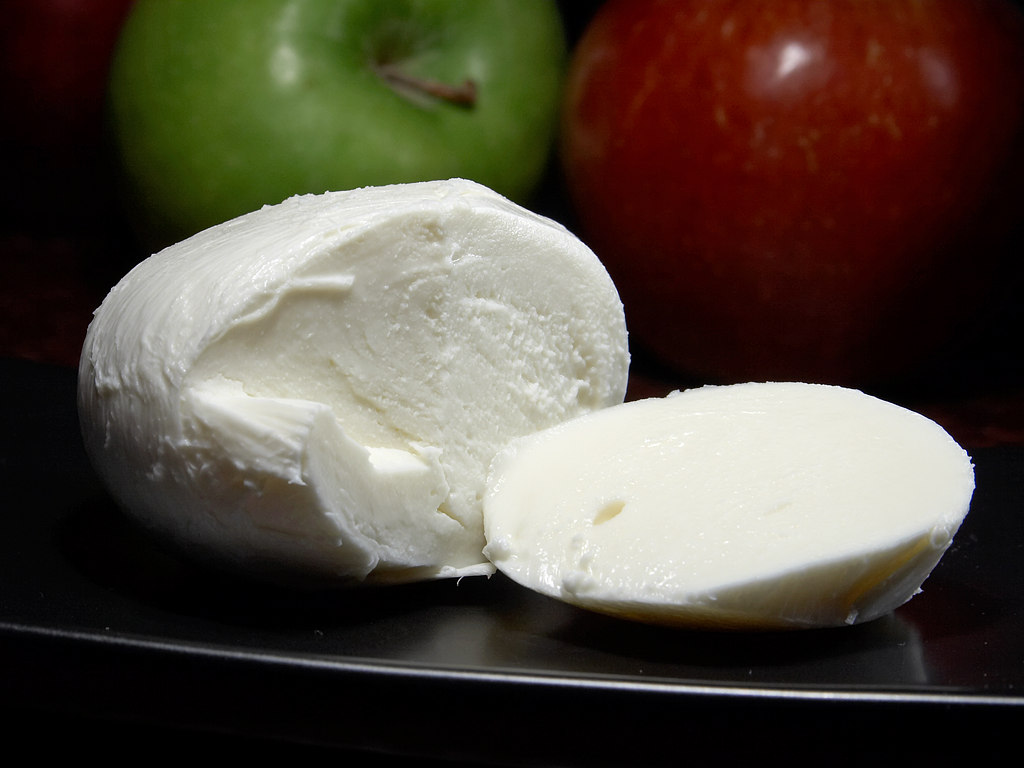 Bleu d'Élizabeth
Emmental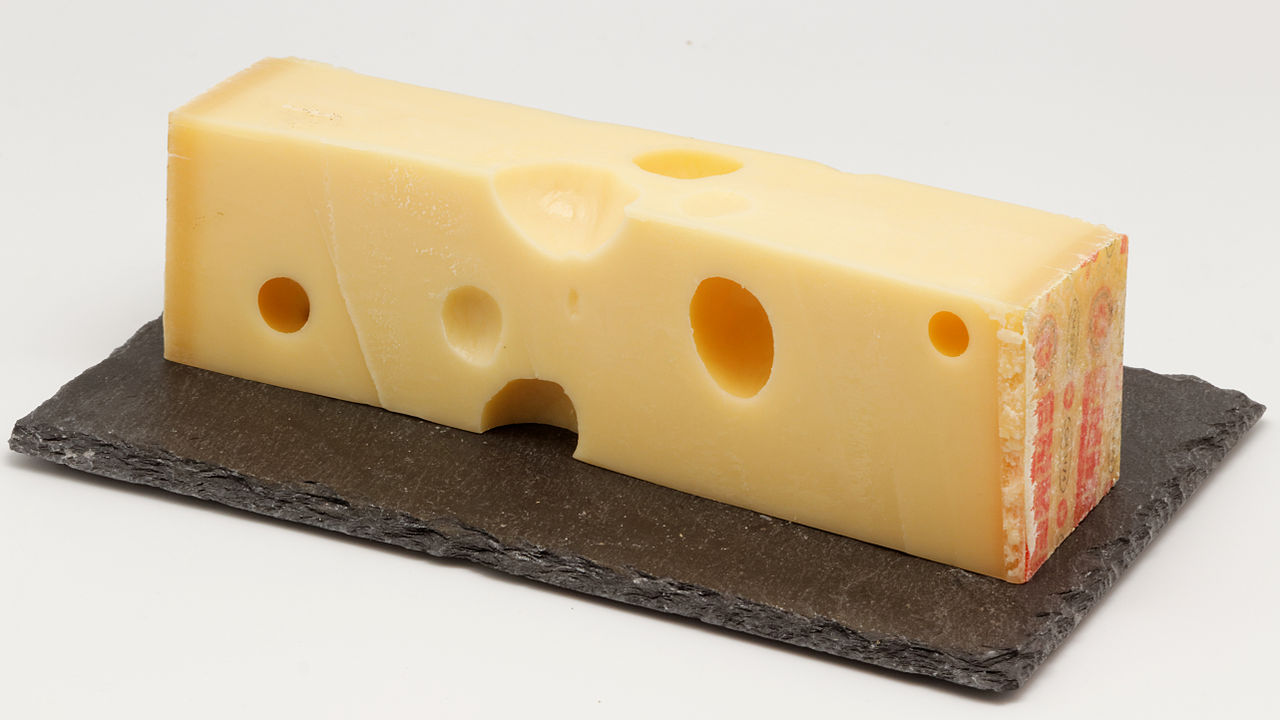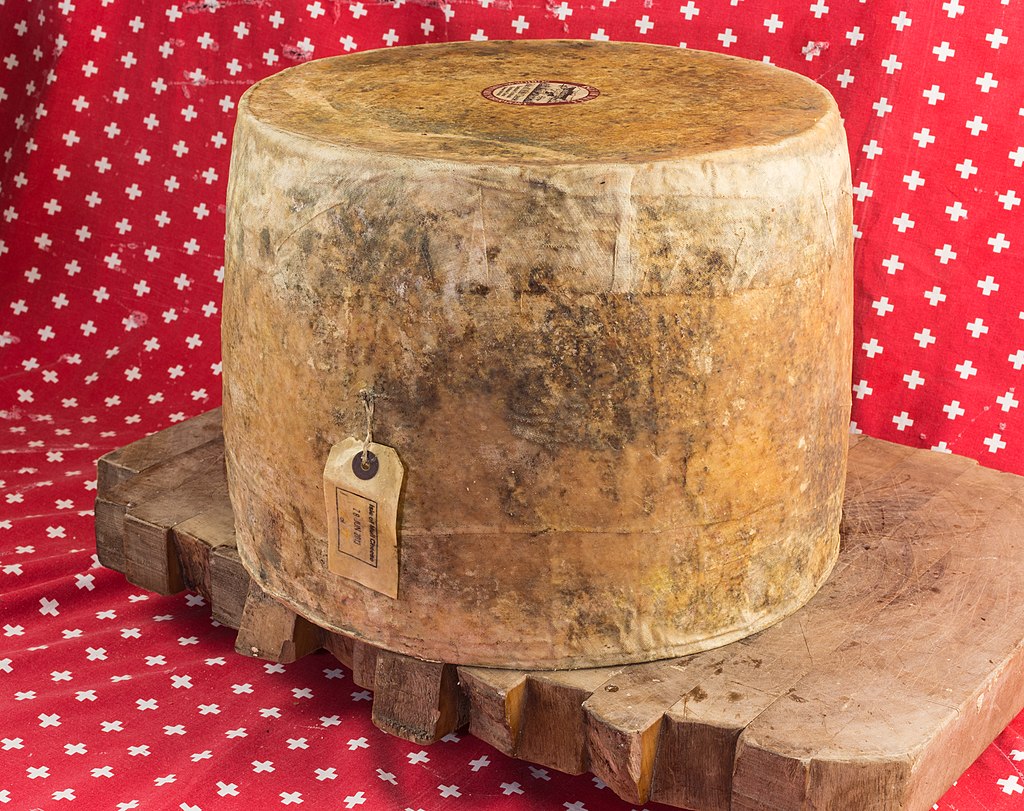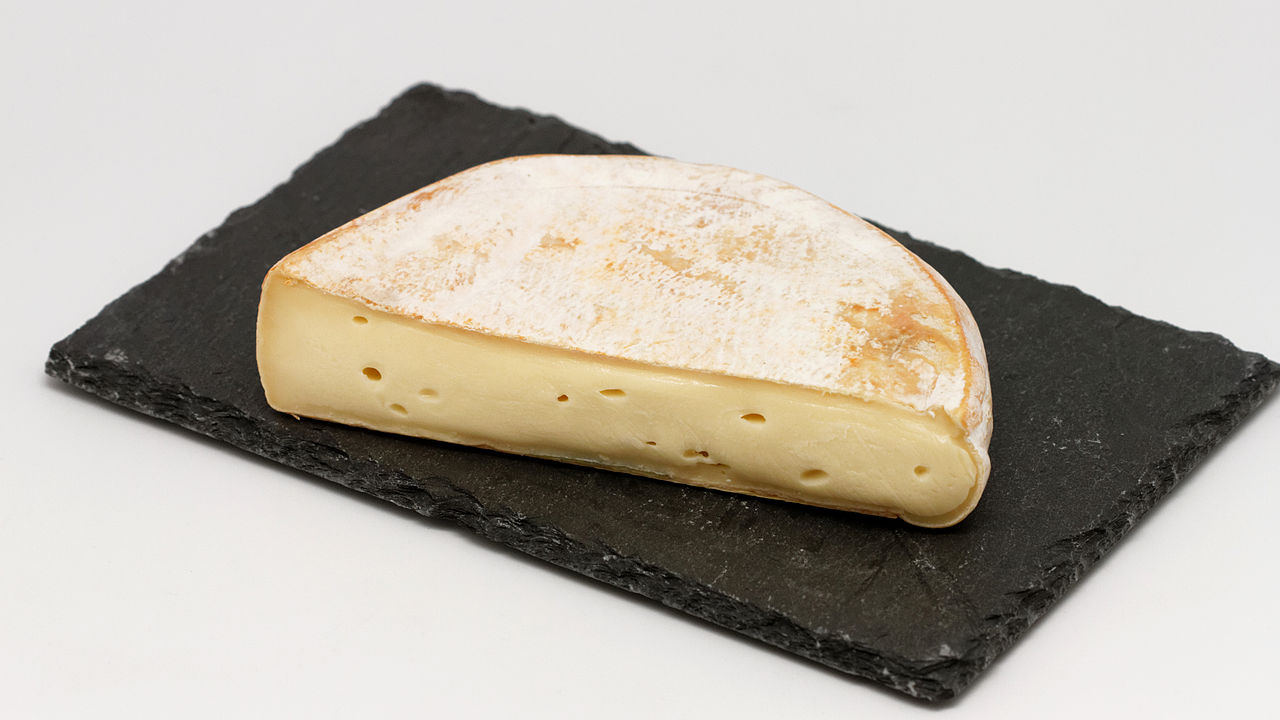 Reference
https://en.wikipedia.org/wiki/Cheese#:~:text=Cheese%20is%20a%20dairy%20product,buffalo%2C%20goats%2C%20or%20sheep.