CAD stands for Computer-Aided Design and is the overarching term for using computer software to design a whole range of things. Computer-aided design (CAD) technicians use their engineering, IT, and mathematical knowledge and skills to design buildings, machinery, products, and parts.
In this post, Pritish Kumar gives refers to some of the most common interview questions for a Computer Aid Design Technician along with an appropriate answer.
They create electronic design plans for buildings and machinery using computer software. CAD technicians work together with building architects and professional draftsmen to turn blueprints and technical drawings into 2D and 3D computer models.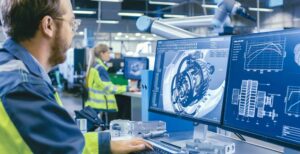 File Name: CAD technicians – 3D solid modeling
Alt-Text: CAD technicians drafting his plan for equipment
The plans created by drafters are employed by many different industries. For example, architectural and civil drafters work in construction and draw up outlines for buildings, highways, pipelines, and more. Mechanical, electrical and electronics drafters create plans for circuitry and equipment. Drafters are also used in the aeronautical industry, where they design aircraft, missiles, and the like. The U.S. Bureau of Labor Statistics (BLS) forecasts drafting jobs to decline by 4% between 2019 and 2029 (www.bls.gov).
Computer Aid Design Technician Interview: the Basics
To ensure success as a CAD technician, you should have extensive working experience with CAD software. Need a keen eye for detail, and the ability to work as part of a team. A top-class CAD technician is a technical wizard, creating exact computer models of building and machine designs according to the client's specifications.
There are two types of work in the job, designing in 2D (known as surface modeling) and in 3D, (known as solid modeling). There are numerous ways into the profession – the first of which is an apprenticeship with an Engineering firm. To access this, however, you will need at least 4/5 GCSEs at A to C level, more than likely including Maths and Science.
A degree is not a prerequisite for entry to a CAD technician/draughts person role but it can provide relevant engineering and technical knowledge.  Relevant degrees include all engineering disciplines, architecture, manufacturing, IT and design, and other engineering roles such as design engineer, civil engineer, and architectural professions.
List of Topics to Prepare
Once you're in the role, you'll learn as you go along, especially related to bespoke CAD ideas that are unique to the industry that you're a part of. There are further qualifications you can acquire to improve your work and fine-tune your skills. So, here are some best Computer-aided design (CAD) technicians' Interview topics that will help you to clear the interview quickly:
Knowledge of engineering disciplines
Knowledge of architecture
Knowledge of manufacturing
Knowledge of IT and design
Knowledge of engineering roles such as design engineer, civil engineer, and architectural professions
the ability to transfer, display, and manipulate your work using Microsoft Office and other programs
attention to detail to create accurate and detailed drawings and check other colleagues' work for accuracy and quality
communication skills and relationship building to work with clients and other engineers and architects to understand and interpret their designs
teamwork – essential to be able to work in a team as you'll be liaising with other CAD technicians and draughtspersons on projects
Knowledge of organization and time management to complete work to project deadlines
Knowledge of a flexible approach to decision making, to make changes to drawings at short notice
Knowledge of mathematical skills to complete calculations and estimates
Knowledge of spatial and design skills to be able to visualize projects in 2D and 3D
Knowledge of problem-solving, creativity, and innovation to come up with solutions to design problems
The level of the interview will directly depend on the experience you have, followed by your qualification and work skills. However, if the candidate is an experienced person, the process can tricky and technical to test the applicant's true abilities.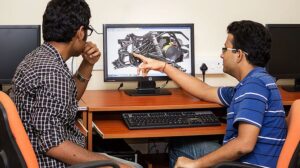 File Name: CAD technicians – 3D solid modeling
Alt-Text: CAD technicians discussing a model of a vehicle's 3D design
Learn More about the Job                         
Anyone serious about landing a job or acing Computer-aided design (CAD) technician's job interview should have adequate knowledge about the concepts mentioned above. More importantly, the applicant should know what kind of institutions they are applying to and the nature of the job to prepare accordingly.
However, if you feel overwhelmed, get in touch with Pritish Kumar Halder to help you nail the interview. With his expertise in Computer-aided design (CAD) technicians' interview preparation, from core Computer-aided design (CAD) technicians' interview questions to advanced Computer-aided design (CAD) technicians' interview questions, you'll have brilliant responses ready.
Get in touch with us today!
Composed by: Suma Sarker
Reference: