A forensic scientist processes evidence to assist the prosecution in criminal cases. Forensic scientists assist in conducting post-mortem investigations, interpret blood spatter patterns, trace substances such as drugs in bodily fluids and tissue, and screen athletes for performance-enhancing drugs. Forensic science technicians may have to work outside in all types of weather, spend many hours in laboratories and offices, or do some combination of both.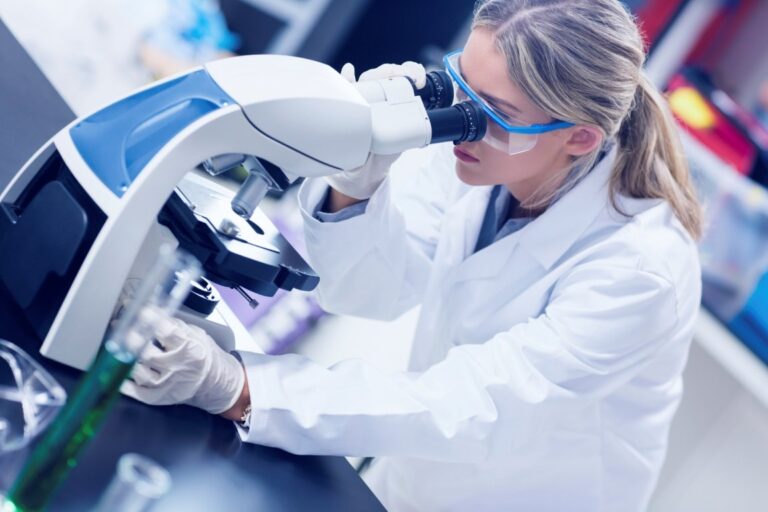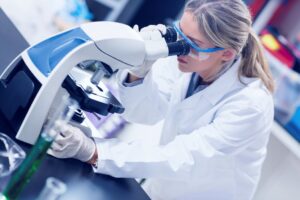 File Name: A forensic scientist- Electronic microscope
Alt-Text: A forensic scientist detecting evidence in the lab
Job activities depend on the area of forensics in which you work. The main areas are Chemistry, biology, drugs, and toxicology. The employment of forensic science technicians is projected to grow 14% from 2019 to 2029, much faster than the average for all occupations. In this article, Pritish Kumar Halder discusses some of the most common forensic scientist interview questions and offer examples of how to answer them effectively.
Forensic Scientist Interview: the Basics
To be a successful forensic scientist, you should have a Bachelor's in natural science, biology, or chemistry. It's always best to have some knowledge about the most common areas of study are physical science, biology, forensic science, toxicology, pathology, DNA.
To improve your chances of performing well at a forensic scientist interview is to know the questions you are most likely to face. And then prepare effective answers before the interview so you can answer them naturally.
List of Topics to Prepare
When interviewing for a forensic scientist position, your interviewer will ask questions to assess your crime prevention motive. The answers you give can be a deciding factor in whether you receive a job offer. So, here are some best forensic scientist Interview topics that will help you to clear the interview quickly:
Knowledge of biology
Knowledge of forensic science
Knowledge of toxicology
Knowledge of pathology
Knowledge of physical science
Knowledge of DNA
Knowledge of analyzing samples, such as hair, body fluids, glass, paint, and drugs, in the laboratory
apply techniques such as gas and high-performance liquid chromatography, scanning electron microscopy, mass spectrometry, infrared spectroscopy, and genetic fingerprinting
sift and sort evidence, often held in minuscule quantities
Knowledge of record findings and collect trace evidence from scenes of crimes or accidents
attend and examine scenes of crimes
liaise with teams and coordinate with outside agencies, such as the police
Knowledge of analyzing and interpreting results and computer data
review and supervise the work of assistants
present the results of your work in written form or by giving oral evidence
Knowledge of justifying findings under cross-examination in courts of law
Knowledge of research and develop new forensic techniques.
Not every question you will encounter when interviewing for a forensic scientist position will be related to the defense service. But those are the common topics interviewer can ask for selecting a qualified candidate.
Learn More about the Job
Anyone serious about landing a job or acing a forensic scientist interview should have adequate knowledge about the concepts mentioned above. More importantly, the applicant should know what type of forensic scientist they are applying to and the nature of the job to prepare accordingly.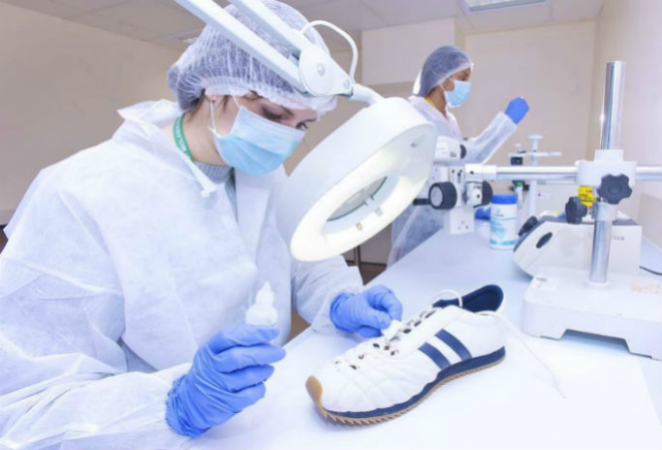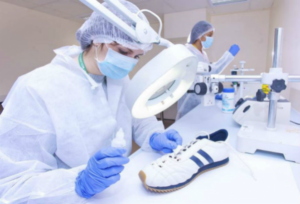 File Name: A forensic scientist – crime spot
Alt-Text: A forensic scientist analyzing evidence from shoe
However, if you feel overwhelmed, get in touch with Pritish Kumar Halder to help you nail the interview. With his expertise in forensic scientist interview preparation, from core forensic scientist interview questions to advanced forensic scientist interview questions, you'll have brilliant responses ready.
Get in touch with us today!
Composed by: Suma Sarker
Reference: 1. https://www.prospects.ac.uk/job-profiles/forensic-scientist