Do you love working with your hands? Are you artistically inclined? You may want to consider becoming a craft artist!
Craft artists create artwork and other objects that are visually appealing. Most artists work with their hands and are good at manipulating tools and materials to create their art. This usually requires significant skill in one or more art forms. They also have active imaginations to develop new and original ideas for their work.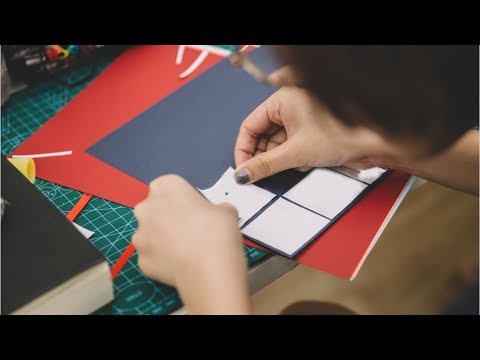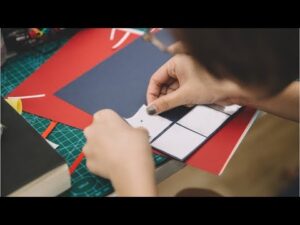 File Name: Craft Artist – Papers
Alt-Text: Craft Artists use a variety of materials and techniques to create art for sale and exhibition
Many artists work in fine- or commercial-art studios located in office buildings, warehouses, or lofts. Others work in private studios in their homes. Some artists share studio space, where they also may exhibit their work. There are currently an estimated 12,500 craft artists in the United States. The craft artist job market is expected to grow by 4.8% between 2016 and 2026.
In this post, Pritish Kumar gives refers to some of the most common interview questions for a Craft Artists along with an appropriate answer.
Craft's Artist's Interview: the Basics
Craft artists work with many different materials, including ceramics, glass, textiles, wood, metal, and paper. They use these materials to create unique pieces of art, such as pottery, quilts, stained glass, furniture, jewelry, and clothing. Many craft artists also use fine-art techniques—for example, painting, sketching, and printing—to add finishing touches to their products.
A formal educational credential is typically not needed to be a craft artist. Most craft artists have at least a high school diploma. High school classes, such as those in art, shop, or home economics, can teach prospective artists some of the basic skills they will need, such as drawing, woodworking, or sewing. Education allows artists to develop a portfolio. Portfolios are essential because art directors, clients, and others look at an artist's portfolio when deciding whether to hire the individual.
The following degree subjects may be useful in developing your career as an artist: bachelor's and master's degrees in fields related to fine and performing arts,  Graphic design, studio art, and art history, postsecondary programs may include core subjects, such as English, marketing, social science, and natural science, etc.
List of Topics to Prepare
If you are an artistic individual, which means you're creative, intuitive, sensitive, articulate, and expressive, then a crafts artist is the right career path for you. Craft artists improve their skills through practice and repetition. There are many concepts that the interviewer can question you about, it usually revolves around these topics:
Knowledge of fine and performing arts
Knowledge of Graphic design
Knowledge of studio art
Knowledge of art and associated crafts
Knowledge of art criticism
Knowledge of art history
Knowledge of visual art and communication
Knowledge of English
Knowledge of Marketing
Knowledge of social science
Knowledge of natural science
Knowledge of Use of their talent for knitting, weaving, glass blowing, painting, drawing, or sculpting
Knowledge of developing creative ideas or new methods for making art
Knowledge of creating sketches, templates, or models to guide their work
Understanding to select which materials to use based on color, texture, and strength
Understanding to process materials, often by shaping, joining or cutting
Understanding to use of visual elements: composition, color, space, and perspective, to produce effects
Understanding to develop portfolios highlighting their artistic styles and abilities
The level of the interview will directly depend on the experience you have, followed by your qualification and work skills. However, if the candidate is an experienced person, the process can tricky and technical to test the applicant's true abilities.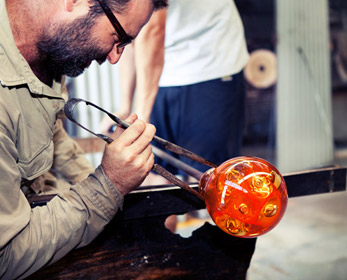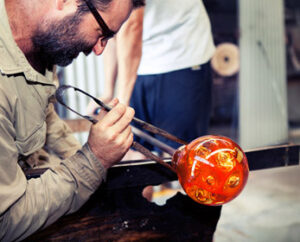 File Name: Glass Artists – Glass in high temperature
Alt-Text: The glass artist shaping glass in high temperature
Learn More about the Job                         
Anyone serious about landing a job or acing Craft artist's job interview should have adequate knowledge about the concepts mentioned above. More importantly, the applicant should know what kind of institutions they are applying to and the nature of the job to prepare accordingly.
However, if you feel overwhelmed, get in touch with Pritish Kumar Halder to help you nail the interview. With his expertise in Craft artists' interview preparation, from core Craft artists' interview questions to advanced  Craft artists' interview questions, you'll have brilliant responses ready.
Get in touch with us today!
Composed by: Suma Sarker
Reference: