An agricultural and food science technician works in all areas of food production. They help with animal breeding and find ways to prevent and cure illnesses in livestock. They also help to develop packaging, quality control, and the technology used to produce and transport the food eaten by millions of people!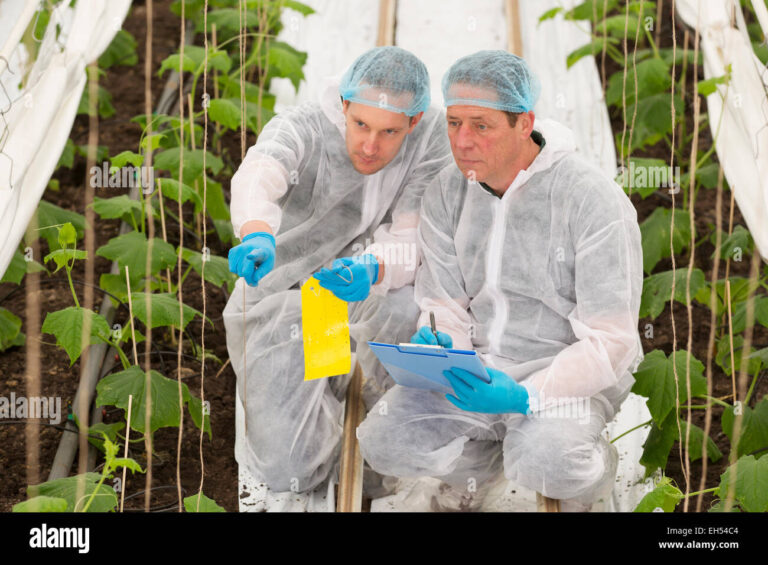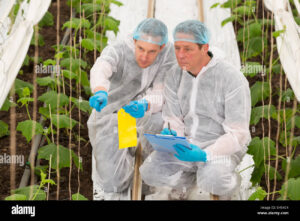 File Name: Two technician-Grapes farm
Alt-Text: Agricultural Technician detecting plants diseases
Technicians work in a variety of settings, including laboratories, processing plants, farms and ranches, greenhouses, and offices. The employment of agricultural and food science technicians is projected to grow 8 percent from 2020 to 2030, about as fast as the average for all occupations. (SOURCE: U.S. Bureau of Labor Statistics, Employment Projections program). However, Agricultural and food science technicians often specialize in the subject area, which includes animal health, farm machinery, fertilizers, agricultural chemicals, or processing technology.
Tips to prepare for Agricultural and Food Science Technician Interview by Pritish Kumar Halder:
Agricultural and food science Technician Interview: The Basics
The most relevant major questions are related to increasing the productivity of crops and animals Therefore, it's always best to have some knowledge about the most common areas of study are food science, chemistry, biology,  forensic science technology, math, science, and computer. Most technicians start as trainees at their place of employment and then gain hands-on experience that allows them to move up in their company.
The level of the interview will directly depend on the experience you have, followed by the qualification and work skills. However, if the candidate is an experienced person, the process can tricky and technical to test the applicant's true abilities.
List of Topics to Prepare
Agricultural and food science technicians assist agricultural and food scientists by performing duties such as measuring and analyzing the quality of food and agricultural products. It can be seen as an ocean of concepts with endless possibilities. There are many concepts that the interviewer can question you about. While the level of questions does depend on the experience of the candidate, it usually revolves around these topics:
Knowledge of Applied chemistry
Knowledge of Physics
Knowledge of Mathematics
Knowledge of Statistics 
Knowledge of Food science
Knowledge of Biology or forensic science technology
Knowledge of Crop or animal science
Knowledge of Agricultural engineering
Knowledge of Animal health, farm machinery, fertilizers, agricultural chemicals, or processing technology
Knowledge of Computer science
Knowledge of Agricultural science technicians typically the following:
Follow protocols to collect, prepare, analyze, and properly store crop or animal samples
Operate farm equipment and maintain agricultural production areas to conform to scientific testing parameters
Examine animal and crop specimens to determine the presence of diseases or other problems
Measure ingredients used in animal feed and other inputs
Prepare and operate laboratory testing equipment
Knowledge of Food science technicians typically the following:
Collect and prepare samples by established procedures
Test food, food additives, and food containers to ensure that they comply with established safety standards
Help food scientists with food research, development, and quality control
Analyze chemical properties of food to determine ingredients and formulas
Prepare and maintain quantities of chemicals needed to perform laboratory tests
When interviewing for the Agricultural and food science technicians interview position, your interviewer will ask questions to assess you're performing your performance in regional knowledge and experience. The answers you give can be a deciding factor in whether you receive a job offer.
Learn More about the Job
Anyone serious about landing a job or acing an Agricultural and food science technician's interview should have adequate knowledge about the concepts mentioned above. More importantly, the applicant should know what position they are applying to and the nature of the job to prepare accordingly.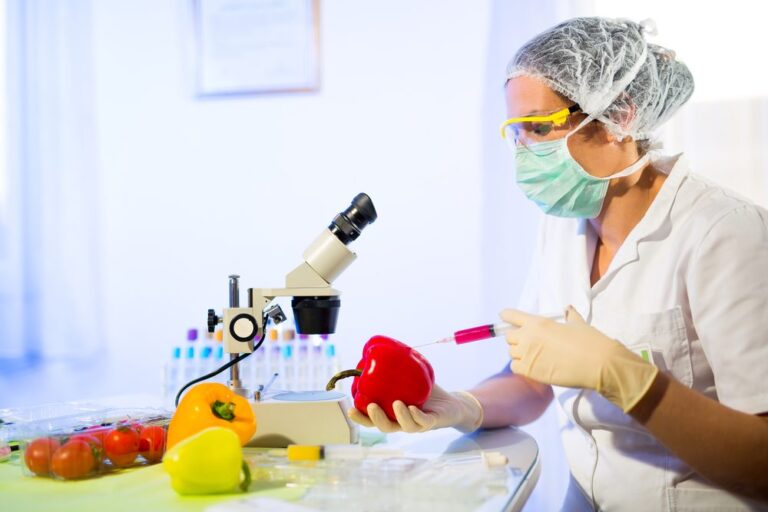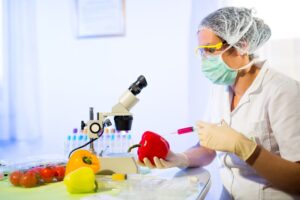 File Name: Women Technician-Capsicums
Alt-Text: A Food Technician injecting solution on a Capsicum in the experiment
However, if you feel overwhelmed, get in touch with Pritish Kumar Halder to help you nail the interview. With his expertise in Agricultural and food science technicians interview preparation, from  Agricultural and food science technicians interview questions to advanced Agricultural and food science technicians interview questions, you'll have brilliant responses ready.
Get in touch with us today!
Composed by: Suma Sarker
Reference: 1. https://www.bls.gov/ooh/life-physical-and-social-science/agricultural-and-food-science-technicians.htm#tab-2