Nutritional consultants are professionals that use their knowledge of nutrition and human physiology to improve the physical well being of their clients by improving their diets. Workers in this field do not take a one-size-fits-all approach. Either. Instead, they consider individual characteristics of clients to devise food-based strategies that can enhance their life. They are just one of many workers in the large and varied field of public health.
Pritish Kumar give illustration about how to build your carrier as a nutrition consultant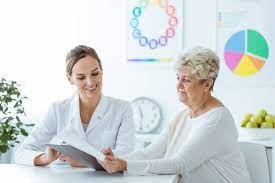 Certified Nutritional Consultant
A Certified Nutritional Consultant (CNC) is a worker that has demonstrated competency in their field of work by passing a rigorous set of certification exams. The purpose of this certification is to help ensure that nutritional consultants work to protect the health and safety of their clients. Also the public at large by adhering to high standards of professional competence and ethics.
Nutritional Consultant Duties
As noted above, a nutritional consultant seeks to utilize their understanding of different food groups and the human body to help clients determine the best diet for them to improve their well being. Primary among the job duties of a nutritional consultant is promoting better eating habits. To do so, they must first delve into each client's history.
After that learn about how that person's body might react to certain foods and gain an understanding of the person's eating habits.They also utilize their understanding of human physiology to devise eating plans that promote, among other things, a strong metabolism, a healthy body weight, and an improved immune system.
But nutritional consultants do more than simply make recommendations regarding the types of foods a person should eat. Beyond that, workers in this field strive to educate their clients about different types of foods, what foods are good for them, and what foods to avoid.
There is an educational component to this job as well. Meaning, nutritional consultants don't just work one-on-one with individual clients. In fact, a large part of jobs in this field is educating the public at large about healthy eating habits.
Specializations are Available for a Nutritional Consultant
Sports Nutritionists
Clinical Nutritionists
Public Health Nutritionists
Food Nutritionists
Requirements to Become a Certified Nutritional Consultant
Educational Requirements
To become a certified nutritional consultant, one must first start by completing a bachelor's degree program in a related field. Bachelor's degree programs usually involve around 120 course hours of work, which takes a full-time student four years (on average) to complete.
Licensing and Certification Requirements
Licensing and certification for positions in this field vary widely by location. In some states, one can find employment as a nutritional consultant with nothing more than a bachelor's degree. In other locations, a master's degree is required. Still other locations, workers might be required to hold a state-issued license in order to work, while others might need certification from a state or national board before they can begin work.
Online Nutritional Consultant Degree Program
Online programs in nutritional consulting are similar to traditional on-campus programs, although with the obvious benefit of taking courses online. These programs are designed specifically to allow students with less flexible schedules due to work or family obligations to still get the education they need to secure employment in this field.
Online programs have similar course requirements both in terms of the types and number of courses that are needed to obtain a degree. That are usually have similar admissions requirements as those outlined earlier as well.
Skills Become a Nutritional Consultant
Analytical Skills – Consultants must keep abreast of new and emerging information related to food, nutrition, and diet, and analyze that information to develop improved services for their clients or the public at large.
Problem-Solving Skills – Workers in this field need to be able to recognize problems and issues in their clients' lives and devise pathways for addressing those issues in a healthy manner.
Communication Skills – Candidates must be able to speak and write in a manner that's clear and easy for people to understand. Likewise, they must be able to actively listen to others to ensure they understand the problems their clients are facing.
Perseverance – Among the many personal traits nutritional consultants need to have is perseverance. Poor eating habits and lack of accurate information about nutrition are rampant today, so workers in this field must be willing and able to work hard to provide services to people who may or may not even want to improve their diet.
Compassion – People of all ages, genders, nationalities, and religions need help from time to time. If a nutritional consultant is to be maximally successful in their job, they must possess compassion for others and demonstrate an ability to empathize with others as well.
Careers Similar to a Nutritional Consultant
Community Health Worker
Rehabilitation Counselor
Agricultural and Food Scientist
Fitness Trainers and Instructors
Reference
https://www.healthschoolguide.net/health-careers/become-a-certified-nutritional-consultant/