An octopus is a soft-bodied, eight-limbed mollusk of the order Octopoda. The order consists of some 300 species and is grouped within the class Cephalopoda with squids, cuttlefish, and naticoids. Octopuses inhabit various regions of the ocean, including coral reefs, pelagic waters, and the seabed; some live in the intertidal zone and others at abyssal depths. Most species grow quickly, mature early, and are short-lived.
In this post, Pritish Kumar told about Octopuses which are highly intelligent animals, masters of camouflage that have evolved an array of tricks over tens of millions of years to avoid or thwart would-be attackers.
In most species, the male uses a specially adapted arm to deliver a bundle of sperm directly into the female's mantle cavity, after which he becomes senescent and dies, while the female deposits fertilized eggs in a den and cares for them until they hatch, after which she also dies. Strategies to defend themselves against predators include the expulsion of ink, the use of camouflage and threat displays, the ability to jet quickly through the water and hide, and even deceit. All octopuses are venomous, but only the blue-ringed octopuses are known to be deadly to humans.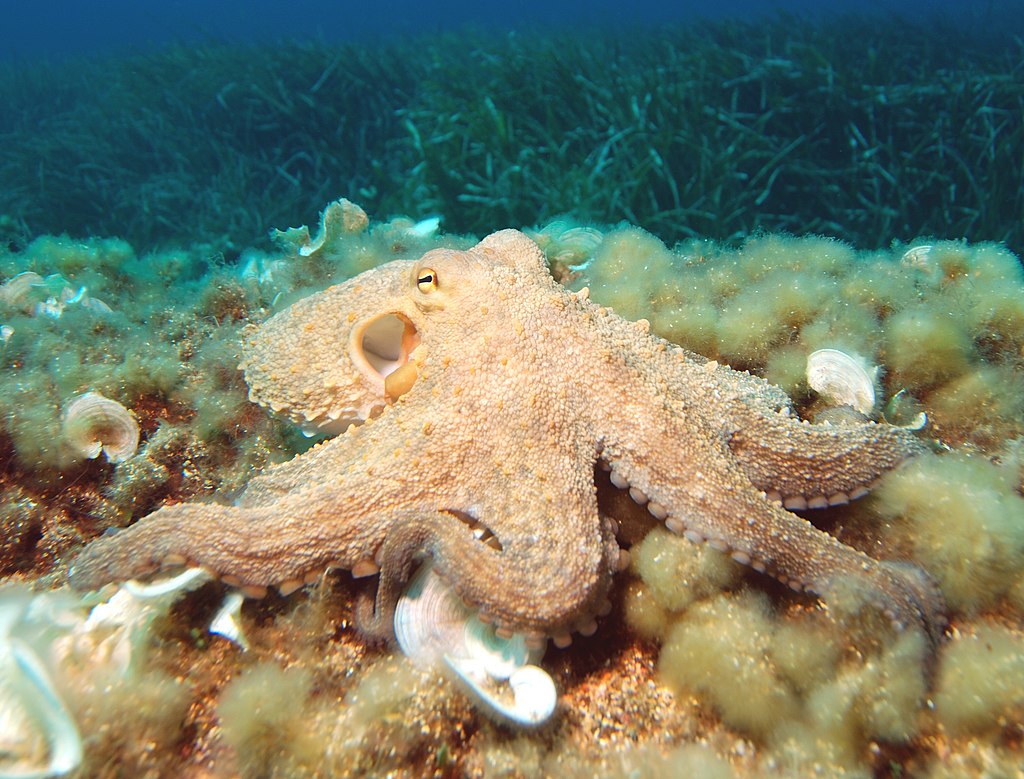 Size
The giant Pacific octopus is often cited as the largest known octopus species. Adults usually weigh around 15 kg (33 lb), with an arm span of up to 4.3 m (14 ft). The largest specimen of this species to be scientifically documented was an animal with a live mass of 71 kg (156.5 lb). Much larger sizes have been claimed for the giant Pacific octopus. one specimen was recorded as 272 kg (600 lb) with an arm span of 9 m (30 ft). A carcass of the seven-arm octopus, Haliphron atlanticus, weighed 61 kg (134 lb) and was estimated to have had a live mass of 75 kg (165 lb). The smallest species is Octopus wolfi, which is around 2.5 cm (1 in) and weighs less than 1 g (0.035 oz).
Respiration
Respiration involves drawing water into the mantle cavity through an aperture, passing it through the gills, and expelling it through the siphon. The ingress of water is achieved by contraction of radial muscles in the mantle wall, and flapper valves shut when strong circular muscles force the water out through the siphon. Extensive connective tissue lattices support the respiratory muscles and allow them to expand the respiratory chamber. The lamella structure of the gills allows for a high oxygen uptake, up to 65% in water at 20 °C (68 °F). Water flow over the gills correlates with locomotion, and an octopus can propel its body when it expels water out of its siphon.
The thin skin of the octopus absorbs additional oxygen. When resting, around 41% of an octopus's oxygen absorption is through the skin. This decreases to 33% when it swims, as more water flows over the gills; skin oxygen uptake also increases. When it is resting after a meal, absorption through the skin can drop to 3% of its total oxygen uptake.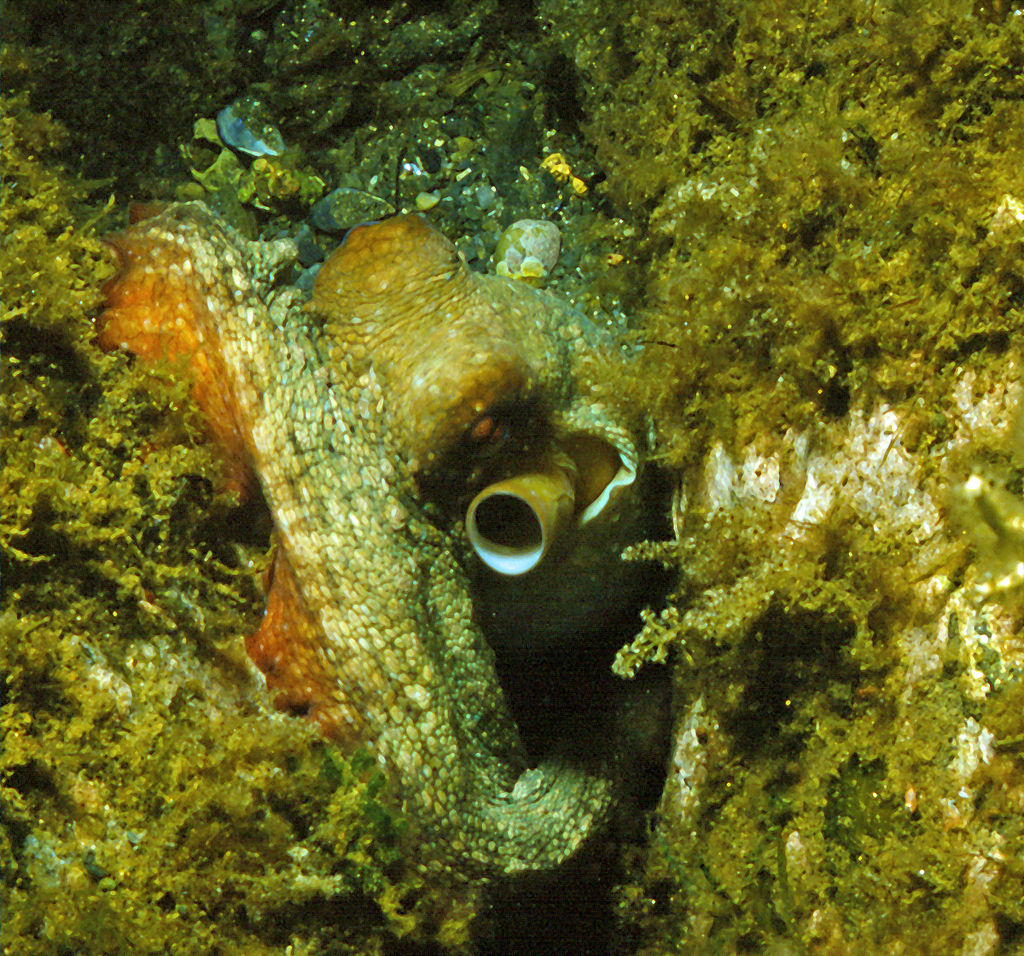 Nervous system and senses
The octopus (along with cuttlefish) has the highest brain-to-body mass ratios of all invertebrates. it is also greater than that of many vertebrates.  It has a highly complex nervous system, only part of which is localized in its brain, which is contained in a cartilaginous capsule. Two-thirds of an octopus's neurons are in the nerve cords of its arms; these are capable of complex reflex actions without input from the brain. Unlike vertebrates, the complex motor skills of octopuses are not organized in their brains via internal somatotopic maps of their bodies.
Reproduction
Octopuses are gonochoric and have a single, posteriorly-located gonad which is associated with the coelom. The testis in males and the ovary in females bulges into the gonocoel and the gametes are released here. The gonocoel is connected by the gonoduct to the mantle cavity, which it enters at the gonopore. An optic gland creates hormones that cause the octopus to mature and age and stimulate gamete production. The gland may be triggered by environmental conditions such as temperature, light and nutrition, which thus control the timing of reproduction and lifespan.
When octopuses reproduce, the male uses a specialized arm called a hectocotylus to transfer spermatophores (packets of sperm) from the terminal organ of the reproductive tract (the cephalopod "penis") into the female's mantle cavity. The hectocotylus in benthic octopuses is usually the third right arm, which has a spoon-shaped depression and modified suckers near the tip. In most species, fertilization occurs in the mantle cavity.
Lifespan
Octopuses have a relatively short lifespan; some species live for as little as six months. The Giant Pacific Octopus, one of the two largest species of octopus, may live for as much as five years. Octopus lifespan is limited by reproduction. For most octopuses the last stage of their life is called senescence. It is the breakdown of cellular function without repair or replacement. Males, this typically begins after mating. Senescence may last from weeks to a few months, at most.
For females, it begins when they lay a clutch of eggs. Females will spend all their time aerating and protecting their eggs until they are ready to hatch. During senescence, an octopus does not feed and quickly weakens. Lesions begin to form and the octopus literally degenerates. Unable to defend themselves, octopuses often fall prey to predators. The larger Pacific striped octopus (LPSO) is an exception, as it can reproduce multiple times over a life of around two years.
Intelligence
Octopuses are highly intelligent. Maze and problem-solving experiments have shown evidence of a memory system that can store both short- and long-term memory. Young octopuses learn nothing from their parents, as adults provide no parental care beyond tending to their eggs until the young octopuses hatch.
Camouflage and colur change
Octopuses use camouflage when hunting and to avoid predators. To do this they use specialized skin cells which change the appearance of the skin by adjusting its color, opacity, or reflectivity. Chromatophores contain yellow, orange, red, brown, or black pigments; most species have three of these colors, while some have two or four. Other colour-changing cells are reflective iridophores and white leucophores. This colour-changing ability is also used to communicate with or warn other octopuses.
Feeding
Nearly all octopuses are predatory; bottom-dwelling octopuses eat mainly crustaceans, polychaeta worms, and other molluscs such as whelks and clams; open-ocean octopuses eat mainly prawns, fish and other cephalopods. Major items in the diet of the giant Pacific octopus include bivalve molluscs such as the cockle Clinocardium nuttallii, clams and scallops and crustaceans such as crabs and spider crabs. Prey that it is likely to reject include moon snails because they are too large and limpets, rock scallops, chitons and abalone, because they are too securely fixed to the rock.
Reference
https://en.wikipedia.org/wiki/Octopus