Human beings who are filled with too much curiosity and want to know about everything about nature and its belongings choose to become bioinformatics scientists. They have a passion to solve the riddles of biology with the use of technology and computer applications, the individuals with investigative minds, having great intellectual, inquisitive, and introspective personalities are fit to opt for a career as a bioinformatics scientist. They bear the characteristics of being rational, methodical, analytical, and logical.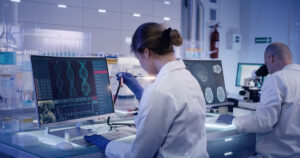 File Name: A bioinformatics Scientist – Laboratory
Alt-Text: Bioinformatics working on genomic factors by using modern technology
A bioinformatics Scientist's career plays a crucial role in the field of healthcare as their work adds to the development of the health and pharmaceutical industries. These professionals also work with laboratory scientists and consult them to design bioinformatics. A bioinformatics career has become more demanding due to the COVID-19 pandemic.
According to the World Economic Forum around 85 percent, of surveying companies would rely on adopting big data analytics, and yes, you guessed it, many of the new jobs will be in the areas of data science and bioinformatics
Get much information before Prepare for the Bioinformatics Scientist Interview by Pritish Kumar Halder
Bioinformatics Scientist Interview: the Basics
Bioinformatics is an interdisciplinary approach using data collection and modeling to analyze biological data. They create mathematical models, develop dynamic simulations, and perform pattern analyses of biological systems. They are also known as biostatisticians, biometricians, and computational biologists.
Bioinformatics Scientists work within different medical science and health fields, including biology, genetics, proteomics, and pharmaceuticals. Some professionals come from a biomedical research background while others specialize in computational tools.
To become bioinformatics you can begin with an academic area incorporating physics–chemistry–biology, physics-chemistry-computer science, or physics-chemistry-biology-mathematics may be useful. You should know B.Sc. (Bachelor of Science) Specializations such as Bioinformatics Science, Biochemistry, and Pharmacology. B.Tech. (Bachelor of Technology) Specializations such as Biotechnology, Computer Science, Bioinformatics, and Genetic Engineering are also important education to acknowledge.
The level of the interview will directly depend on the experience you have, followed by your qualification and work skills. However, if the candidate is an experienced person, the process can tricky and technical to test the applicant's true abilities.
List of Topics to Prepare
A bioinformatician combines research in biology, medicine, and health-related studies with information technology to collect and interpret data covering a range of fields, such as genetics or pharmaceutics.
If you wish to be a part of answering the complex questions in the field of biology using several scientific technologies then you can begin your career as a computational biology scientist. There are many concepts that the interviewer can question you about, it usually revolves around these topics:
Education and Training — Knowledge of principles and methods for curriculum and training design, teaching and instruction for individuals and groups, and the measurement of training effects.
Administrative — Knowledge of administrative and office procedures and systems such as word processing, managing files and records, stenography and transcription, designing forms, and workplace terminology.
Below are certification courses that aspiring bioinformatics scientists can opt to upgrade their skills and knowledge. 
Finding Hidden Messages in DNA (Bioinformatics I):
Biochemistry of Biomolecules
Molecular Biology
University Chemistry: Molecular Foundations and Global Frontiers Part 1:
General Chemistry I: Atoms, Molecules, and Bonding
The level of the interview will directly depend on the experience you have, followed by your qualification and work skills. However, if the candidate is an experienced person, the process can tricky and technical to test the applicant's true abilities.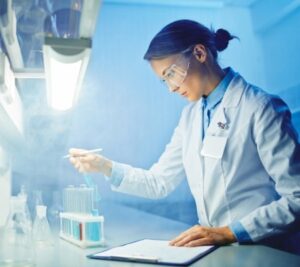 File Name: A bioinformatics – Laboratory
Alt-Text: A bioinformatics working on molecules in the laboratory
Learn More about the Job                         
Anyone serious about landing a job or acing a Bioinformatics job interview should have adequate knowledge about the concepts mentioned above. More importantly, the applicant should know what kind of institutions they are applying to and the nature of the job to prepare accordingly.
However, if you feel overwhelmed, get in touch with Pritish Kumar Halder to help you nail the interview. With his expertise in Bioinformatics interview preparation, from core Bioinformatics interview questions to advanced Bioinformatics interview questions, you'll have brilliant responses ready.
Get in touch with us today!
Composed by: Suma Sarker
Reference: